Anonymous browsing - how does it work
In a regular case your web browser connects to the web site directly. Thus revealing
quite a lot of sensitive information
. An orange arrow denotes this case in the block scheme.
To change this situation Proxy Switcher was written. It can be used to find working anonymous proxy servers and redirect requests through them.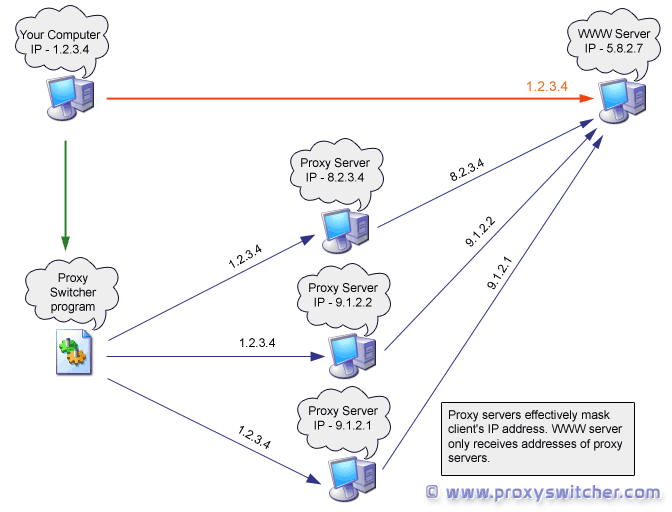 Anonymous Browsing - Possible usage scenario
If you get banned on the forum - use Proxy Switcher to fake your IP and avoid the ban.
If you are a webmaster that wants to check Geotargetting of some sites (i.e. Google).
Just want to hide your IP when visiting some sites which you might not want to record your IP address.
Automatic Anonymous Proxy Switching
To increase anonymity even further Proxy Switcher can periodically switch proxy servers. You can set this period down to every 10 seconds. In this mode Proxy Switcher will continually check and pick fastest available servers.
Following fragment from webserver log shows access from 5 IP addresses. While in reality it was accessed via Proxy Switcher and
real address does not even show up at all
.
142.163.196.37 - - [10/May/2004:23:44:59 +0300] "GET / HTTP/1.1" 200 4188
142.163.196.37 - - [10/May/2004:23:45:00 +0300] "GET /head.png HTTP/1.1" 200 198
193.178.1.1 - - [10/May/2004:23:45:20 +0300] "GET /index.php?show=1 HTTP/1.0" 200 4175
193.146.142.66 - - [10/May/2004:23:45:26 +0300] "GET /index.php?show=2 HTTP/1.1" 200 6472
193.146.142.66 - - [10/May/2004:23:45:31 +0300] "GET /photo/ HTTP/1.1" 404 284
142.163.196.37 - - [10/May/2004:23:45:37 +0300] "GET /index.php?show=1 HTTP/1.1" 200 4188
142.163.196.37 - - [10/May/2004:23:45:44 +0300] "GET /index.php?show=4 HTTP/1.1" 200 2164
12.170.99.234 - - [10/May/2004:23:45:52 +0300] "GET /cv/crast/index.html HTTP/1.0" 200 1147
12.170.99.234 - - [10/May/2004:23:45:53 +0300] "GET /cv/crast/0.gif HTTP/1.0" 200 75191
12.170.99.234 - - [10/May/2004:23:45:54 +0300] "GET /cv/crast/1.gif HTTP/1.0" 200 86378