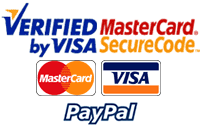 Please note that
there is no refund, if you purchase without using trial version
and find that it is incompatible with other programs on your computer or with your system or doesn't function on your system due to external problems (e.g. filtered Internet access). Product has a trial versions which you can download for free and test whether they work on your system or not and whether they fit your needs or not.
Due to July 1st 2003 introduction of the new
EU VAT
(Value Added Tax) Regulations regarding electronic goods VAT is now automatically added to the price for our
European Union customers
.